Our team at Action 1 Roofing has helped countless customers find the roofing that works best for their property. When it comes to commercial buildings, in particular, rubber roofing is something we help with most frequently. We work with the best roofers in the area to ensure each of our customers gets the help they need with repairs, installation, and re-roofing. With something as complex as rubber roofing, we know we can help because our roofers have vast experience working on buildings of all sizes.
Main Types of Rubber Roofs
What is EPDM Rubber Roofing?
EPDM roofing is also known by the longer name of ethylene propylene diene terpolymer. It was one of the first types of rubber roofs introduced to the market, which is why it remains one of the most popular today. It also has incredible longevity and can last anywhere from 22-35 years or even longer in some areas. What's even better is that EPDM is affordable and can withstand bad weather condition and the sun.
When it comes to the drawbacks of this type of rubber roofing, there are only a couple. The first is that EPDM is naturally the color black, which means it tends to absorb heat. If you want something lighter, you will end up paying a higher cost. EPDM is also sealed rather than welded, which can make it more susceptible to leaks in the future. Overall, we think it's a solid choice for an affordable and strong roofing material.
What is a PVC Roof?
Otherwise known as polyvinyl chloride, PVC roofing is made of thermoplastic materials and is flexible as well as water-resistant. One main difference from other rubber roofing is that it's made with chlorine salts and plasticizers. These benefit your roof by making it very flexible, which helps it stay in place on the roof and resist shrinking over time. This type of roof is also energy-efficient, which can help lower your energy bills when you use your HVAC system the most.
One of the cons of PVC roofing is the chemicals it's made with. These can cause it to break down more rapidly than other materials, such as TPO or EPDM. In addition to this, PVC roofing is not very environmentally-friendly because it contains chlorine. You can expect this to last around 20 years or longer, depending on weather conditions.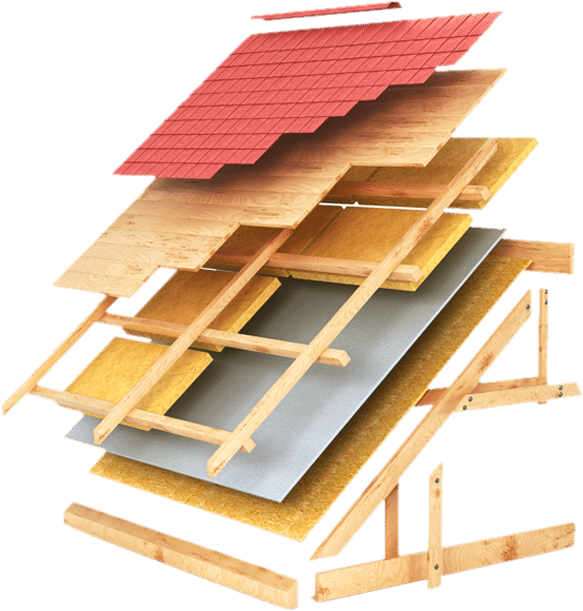 What is TPO Rubber Roofing?
TPO roofing is also known as thermoplastic polyolefin and is made similarly to EPDM roofing. While it hasn't been around as long as EPDM roofing, it is a popular alternative because it's more energy-efficient due to the lack of chemicals used in processing, including chlorine. TPO is also known for being incredibly flexible, so it can resist damage from high winds and inclement weather throughout the year. Making this roofing even better is the fact that it's made with strong seams, comes in a wide variety of colors, and is recyclable as well.
The main problem people run into when working with TPO roofing is accidentally purchasing inadequate materials. While our team at Action 1 Roofing understands how important it is to save money, we also know the value of good quality materials. That's why we only work with reputable workers who use high-quality TPO materials for their clients. You can expect this roofing to last anywhere from 22 to 30 years, depending on conditions and maintenance.
Hire an Expert Team for Rubber Roofing
Action 1 Roofing values hard work, integrity, and incredible customer service. That's why we work with some of the most reputable contractors in the area that you can trust and can help you with any type of roofing system. Each team member is experienced, and dedicated to providing each customer with a great experience. When you call us for help with rubber roofing, we will find the best team that's right for you with the information provided. You can learn more about how we work with our customers below.
Inspection
When you contact us for help with rubber roofing, we listen. Our team at Action 1 Roofing has years of experience with this and other roofing materials, so we understand each of their complexities. We'll learn about what work you need to have done, ask you questions about your property, and answer any questions you might have. This time will ensure we have all the information needed to find what type of roofing inspection you need.
Once we find the right roofer, we'll send them to your house to do a thorough inspection. This is an important part of servicing your roof, as it allows the roofer to see the full condition before any work begins. The inspection will involve climbing up on your roof, looking inside your home on your ceiling, and taking a closer look at the materials. If there are any problem areas noted, your roofer will note them and take pictures so you can see what's going on.
Repair
Before a rubber roof can be applied, it's important to repair any damage that exists. This is crucial in restoring the health of the structure and ensuring you're beginning with a healthy foundation. Even minor repairs will help prevent leaks and other potential issues in the future. Your roofer will discuss the repairs that are necessary before begin to work so you know what to expect.
If you already have rubber roofing, repairs can be done by an experienced professional. With this process, they'll remove the damage and patch it to create a smooth and seamless surface once again. No matter what type of rubber roof you have, repairs can be done as long as the damage is not extreme.
Replacement and Re-Roof
Replacing your roof with a rubber roof can be an excellent decision if your current roof is too old or damaged to be saved. When a roofer does this, the old roofing material will be torn down and you'll be left with just a deck. From here, they can take care of repairs before installing the rubber roof of your choice. By working with an experienced contractor, you'll have peace of mind knowing your new roof was done right.
Re-roofing with rubber roofing materials is possible, although it's important to work with an experienced roofer to ensure the job is done correctly. At Action 1 Roofing, we'll set you up with the company that can make this happen. We work with contractors who specialize in working with rubber roofing and re-roofing with it as well. They'll take care of you every step of the way to create a strong and reliable roof.
Schedule your service today
3 easy steps